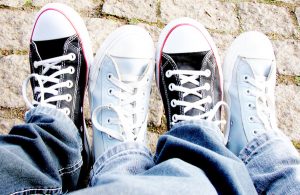 The man gave names to all livestock and to the birds of the heavens and to every beast of the field. But for Adam there was not found a helper fit for him.
So the Lord God caused a deep sleep to fall upon the man, and while he slept took one of his ribs and closed up its place with flesh.
And the rib that the Lord God had taken from the man he made into a woman and brought her to the man (Genesis 2:20-22)
What a precious scene! Do not let your possible familiarity with it rob you of the enjoyment of it. God causes Adam to sleep, takes a rib from Adam, and from it makes a wife for him.
Woman was made, not ex nihilo (from nothing), as the original Creation was. Nor was she made from the dirt, as Adam and all the other plants and earth animals.
God made Eve from Adam, for Adam! God made Eve from Adam's own rib.
Woman is God's perfect solution for man's loneliness (Genesis 2:18). How barbaric, how wicked, how ungrateful we sinful men are, then, that we have ever used phrases like "ball and chain" — imagery of imprisonment — for the gift God has given us for the sharing of intimate love, communication, and enjoyment!
By contrast, Adam sings a song, writes a poem, on the spot (Genesis 2:23):
This is now bone of my bones, and flesh of my flesh:
she shall be called Woman, because she was taken out of Man.
Adam is saying, in other words, this is the greatest gift God has given me in this beautiful garden. Eve fits me perfectly. This is one who belongs with me, and with whom I belong.
Marriage is one of God's greatest gifts to humanity.
It is remarkable that these are the only words we hear from Adam before the fall. Think about it. The only thing we hear the perfect man speak about his how wonderful his wife is! Sadly, the first thing we hear from fallen Adam is him blaming his wife for his own shortcomings.
Which one do you most resemble, husband? Perfect Adam praising his wife, or fallen Adam blaming his wife?
God was gracious and wise and loving to meet man's need for companionship and communion. Marriage is one of God's greatest gifts to humanity. We ought to express our awe and gratitude for God's gift by displaying love and appreciation for the wife God has given to us.
Save
Save