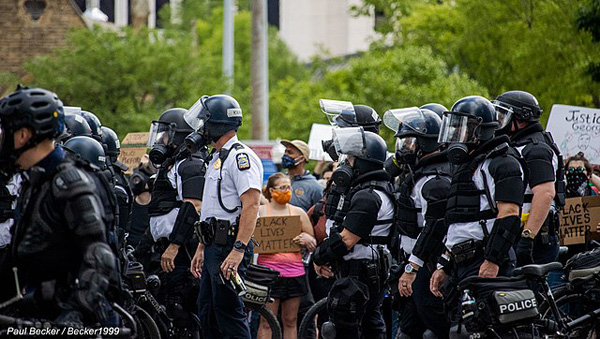 Like most of you, I've been thinking a lot recently: About race and justice and police immunity and identity politics and a thousand other things that landed us where we are.
But mostly I've been thinking about sowing and reaping. Paul said that we reap what we sow: "Do not be deceived: God is not mocked, for whatever one sows, that will he also reap" (Galatians 6:7).
It's true for individuals and true for cultures: Life gives us back what we (individually and collectively) put into it. Not immediately. But over time and with the unbreakable rhythm of the seasons.
Almost a thousand years before Paul, God's prophet Hosea said something else about sowing and reaping: If you sow the wind, you will reap the whirlwind (Hosea 8:7). And right now, that analogy feels perfect. We are reaping a whirlwind.
Pundits tell us "Here's what the whirlwind will do next."
They don't get it. It's a whirlwind.
Politicians tell us "Here's how we'll make the whirlwind go away."
They don't get it. It's a whirlwind.
Our friends tell us: "Gee-wiz. This whirlwind sure has such bad manners. It needs to behave itself."
They don't get it. It's a whirlwind.
We tell ourselves: "This will pass, we'll go back to normal."
We don't get it. It's a whirlwind.
God is not mocked: We reap what we sow. It's a fundamental rule of reality. Which means, we are always reaping. Reaping what we sow ourselves and reaping what others have sown for us. But always reaping.
But we are always sowing, too.
So why not sow something good today?
… sow peace by praying for your city,
… sow understanding by reading books that help you see the world through others' eyes,
… sow wisdom by reading a couple of super boring social science papers on inner-city violence or white-on-black policing,
… sow mental clarity by actually watching the video of George Floyd's death—if, that is, there's even a sliver of your soul that thinks this might be another Covington-style put-up job by the media,
… sow healing by asking God sincerely "What have I done to contribute to this situation?" … then listening to the answer and repenting,
… sow encouragement by reading some US history and reminding yourself how far we've come,
… sow love by asking an actual expert how you can help … and then helping,
… sow boldness by preaching the Gospel to yourself so your actions are not motivated by fear or guilt or hatred,
… sow unity by reading Ephesians 2 and learning about how Jesus has "broken down in his flesh the dividing wall of hostility" between rival ethnic communities,
… and sow peace on earth by telling someone about the Son who died to bring it.
This Saturday a group of protestors marched in the town where I live and work and worship. As they marched past my office window, their shouts and car horns drowned out my typing. It felt wrong to keep working. So I did something I've never done before: I walked the streets of my town and prayed for her. I listened to the protestors, I sighed for the few hooligans among them. And for the first time in my life, I cried for my city.
It was a moment of reaping, yes, but also of sowing. It wasn't much—a prayer, a sigh, a small resolution to become the sort of person from which a better world might someday be built. But sowing never can be much: Just a little seed, a little soil, some water, and a long wait.
(Guest writer Noah Weaver lives and works in the New York City area where he mostly writes software and, sometimes, studies philosophy and theology.)