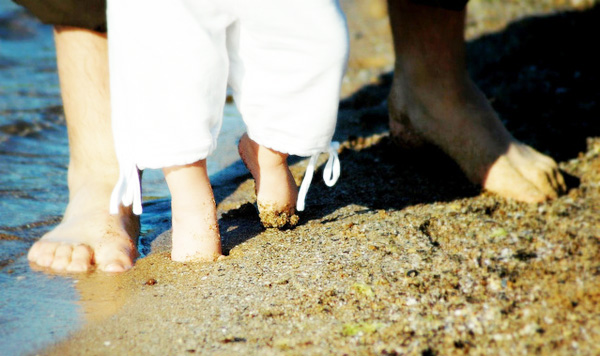 He established a testimony in Jacob and appointed a law in Israel, which he commanded our fathers to teach to their children,
that the next generation might know them, the children yet unborn, and arise and tell them to their children,
so that they should set their hope in God and not forget the works of God, but keep his commandments (Psalm 78:5-7).
In this brief passage, we find four vital elements to faithful, Christ-centered parenting. And it opens with a command to "fathers," letting us know that the charge should be led by godly fathers in their own homes. However, as we'll see, this instruction also applies to single mothers, to homes in which the father is not godly, to grandparents, or anyone who has opportunity to influence young people for Christ.
No matter who you are, then, it is worthwhile to consider these four elements of spiritually successful parenting.
A Multi-Generational Vision
At least five generations are specifically mentioned in Psalm 78! Fathers, think about that the next time you are disciplining your child, or explaining a decision to them, or choosing between hobby time and parenting time. What do you want to be passed to your child as he or she grows up, makes decisions, sets priorities, gets married and teaches their children? What about your grand children? Beyond?
We are never condemned to follow in the failing footprints of a past generation.
You must be parenting with a multi-generational vision in mind. You must be seeking to make the gospel such a clear and potent and transcendent priority in your home that even your great, great grandchildren will feel the effects of your zealous instruction.
How can you make what really matters in life stick?
How can you make such an impression on your children that the message is passed down for generations?
Only sacrificial, clearly-above-all dedication can accomplish such a goal.
This kind of plain impression can be made for something as simple and unimportant as a hobby you sacrificially dedicated yourself to: "Dad wouldn't miss Monday night football for anything," your kids might be telling your grandkids even after you are gone. Or they could be saying, "My parents wouldn't let anything keep them from worshiping at church on Sundays!" I am thankful that this is precisely the testimony left behind by my grandfather, who passed away before I was born and so whom I never met. And now I am telling my children about his faithful example, and so he has already impacted four generations!
Perhaps, though, you didn't inherit a Christian witness from parents or grandparents? Then begin now!
Make your generation the one that is fundamentally different for your family, that is radically Christ-centered. May yours be the branch of the family tree that strikes out heavenward!
We are never condemned to follow in the failing footprints of a past generation. That is actually the thrust of this passage in Psalm 78 and its context. Verse 8 explains that all this admonition is given in the first place so that they "should not be like their fathers, a stubborn and rebellious generation, a generation whose heart was not steadfast, whose spirit was not faithful to God." You be meek and obedient, you calibrate your heart to God, you steadfastly walk with and stand for God – no matter what example you had from your parents or other family members.
A Gospel-Centered Goal
The force of the gospel is to put your hope in God, through Jesus Christ, rather than in yourself or in others.
Our words and actions and decisions ought to point our children to Jesus continually.
The gospel says you can't do it, you can't succeed, you can't save yourself – but Jesus did succeed where we have failed!
Is that the force and the effect of your parenting? Whether sharing a happy day at the park, or a difficult day of discipline, our words and actions and decisions ought to point our children to Jesus continually.
Our goal in everything we do and say and example as parents should be the same as John in writing his gospel: "[this is] so that you may believe that Jesus is the Christ, the Son of God, and that by believing you may have life in his name." Our goal ought to be the same as Paul's, in spending time with the church at Philippi, to "remain and continue with you all, for your progress and joy in the faith, so that in me you may have ample cause to glory in Christ Jesus, because of my coming to you again" (1:25-26).
Dads, think about that, make that your goal, the next time you walk in the door from work: "My goal as I come to you again is that you may have ample cause to glory in Christ Jesus!"
A Deliberate Awareness
It is interesting, and should be instructive, how often the Bible exhorts us to remember, or to not forget (e.g. Psalm 103:2; 105:5; Deuteronomy 4:9; 8:11). It seems we have an amazing capacity to lose focus, to wander from major objectives, to be careless concerning past blessings and lessons from God. But the Bible says, "Don't forget!"
Don't forget the works of God for you, in Jesus, and don't forget the works that Christ in turn now commands of you as his disciple.
We see this deliberate awareness in Psalm 78: "We will not hide them from their children, but tell to the coming generation the glorious deeds of the LORD, and his might, and the wonders that he has done." Are you deliberately and openly showing God's praise and strength and wonderful works to your children?
A Persistent Obedience
Christ-centered parenting can only flow out of a heart that is receiving the gospel and not forgetting God's work. Notice the order of this passage in Psalm 78; or rather, notice what the order is not: "obey, remember, hope." Instead, the order is the opposite: "hope in God, remember his works, and then keep his commandments."
Genuine reception of the gospel leads to a persistent obedience.
The faithfulness and grace of God, genuinely received and considered, fosters a persistent obedience to the marvelous One who gave himself for us!
If we believe Jesus persisted through the humiliation of his life and death for us—and we are deliberately remembering Jesus' grace to us—it will lead to an obedience that refuses to give up, to be distracted, or to settle down into a life that is merely moral.
Genuine reception of the gospel leads to a persistent obedience. It leads to a grace-grounded, gospel-proclaiming life for the fame of our wonderful Savior Jesus. May that be your life, and the life of your home, for generations to come.