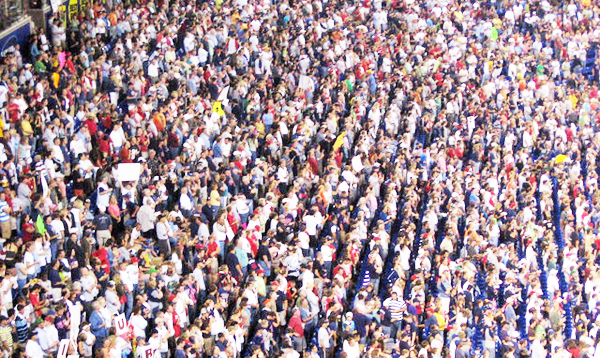 Look, I tell you, lift up your eyes, and see that the fields are white for harvest (John 4:35).
Soon after beginning his public ministry, Jesus turns to his small band of disciples and speaks these words. He goes out of his way to grab the attention of his listeners before making a simple statement.
Jesus Knows Us
"Look! I'm telling you. Lift up your eyes. See!" Why all this prelude to making his point? Because Jesus knows his disciples, and we still today, will have trouble perceiving the reality he is describing!
It is hard for us to see and believe sometimes that the fields of Christian service are full and ripe, when we feel tired, empty, and barren.
There's a reason we find similarly pointed encouragements throughout Scripture. Discouragement and doubt are common experiences for disciples of Christ. Thus, in the Old Testament we are reminded, "Those who sow in tears shall reap with shouts of joy!" (Psalm 126:5). And in the New Testament Paul encourages with these words, "Let us not grow weary of doing good, for in due season we will reap, if we do not give up" (Galatians 6:9).
It is precisely because the fields do not always look ripe that Jesus tells us, "Believe me, they are!"
The fields of Christian service are full and ripe, when we feel tired, empty, and barren.
So, weary and disheartened mother — trying to train your children in the way of the Lord and yet not seeing the heart-fruit you'd like to — look! Jesus is speaking to you, telling you something! Lift up your eyes! See! The field of your family is ripe for harvesting. So do not be weary in well doing, do not stop sowing gospel-seed in your children's hearts, even though sometimes it will be with tears and weeping.
Likewise, if you are a spouse with an unbelieving mate, a pastor in a small congregation, or an evangelistic co-worker who doesn't see any converts in the workplace — do not grow weary in your worthy labor.
Jesus Sends Us
Jesus says, "Look, lift up your eyes, see. Because I am telling you myself that the fields are ripe for harvesting, no matter how challenging or discouraging things may seem to your natural eyes right now." The fields are white to harvest because this world is full of fatally sick people, and yet Jesus is able to heal even our greatest sickness. He is able to forgive our sins and cleanse our souls.
The harvest is ripe because Jesus is Lord.
May we marvel ourselves, then, at the power and authority of Jesus over the sickness, and sin, and Satanic influences in this world; and may we then take the good news of Jesus Christ to the world, seeing with eyes of faith that the harvest is ripe even now.